On January 27, 1986, the world of music lost one of its greatest artistic geniuses when, at the relatively young age of 54, the Indian classical sitarist Nikhil Banerjee died of a heart attack. Though largely unknown outside the realm of Indian classical music, Nikhil Banerjee was considered a towering figure by Indian classical enthusiasts in India and around the world.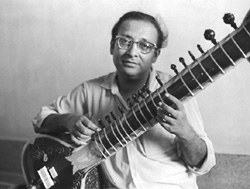 Photo courtesy Ira Landgarten ©

Nikhil Banerjee was 16 years old when Allauddin Khan accepted him as a disciple, inviting the young sitarist to live with him in the time-honored Indian guru-disciple tradition. Allauddin Khan's influence on Nikhil Banerjee was profound. The sitarist modeled his life in many ways on his guru, having little interest in wealth and luxury. Nikhil Banerjee later said that his whole life, as well as his attitude toward music was changed by Allauddin Khan: "He had a strong antipathy toward anything narrow in the sphere of teaching. He was a teacher incarnate with the purest vibration. Any student, if really deserving, had from him the shower of his blessings, and by the sheer touch of his genius felt quite transformed. I consider him as really incomparable."

"I've been asked, 'You and Ravi Shankar being disciples of the same person, why are your styles and approaches to music different?' This is because my teacher understood. The first time I went to [Allauddin Khan] the first thing my teacher said, 'I will channelize you in a different way, I will put you in a different way than Ravi Shankar. There will be no similarity.' "

-Nikhil Banerjee

Acknowledging influences, Nikhil Banerjee never appropriated specific musical ideas. His ability to synthesize the finer qualities of these diverse styles to create his own voice, along with his genius and great critical understanding of the music and his instrument made his performances among the most masterful of his era. Technique was never a goal in and of itself but was used as a necessary tool, developed to express the content and essence of the music."

"Thanks to his own innovations, Nikhil Banerjee was able to play with breathtaking speed and power without compromising tone and clarity. Both his command of Raga and his rhythmic ingenuity were beyond question, but the feature which really marked him out was the ability to transform into musical sound moods of love, pathos, and even fury, speaking directly to the heart of the listener."

-Martin Clayton, Professor of Music

Though an extremely accomplished musician, Nikhil Banerjee never stopped studying the almost fathomless depths of Indian classical music, continuing his training with Allauddin Khan's son, Ali Akbar Khan, and daughter, Annapurna-Devi. Ali Akbar Khan recalls, "After the first few years with my father, Nikhil was sent to learn from me. Nikhil learned from me for a total of 15 years. I brought him to play with me on the radio, on stages all over India, and on movies in Calcutta. After I left India to come to America, he received guidance from my sister, Annapurna."

Nikhil Banerjee and Ali Akbar Khan performed over a thousand jugalbandis (duets) over their many years together and developed a deep teacher-disciple association and personal relationship that lasted to the end of Nikhil Banerjee's life. "I am very much influenced by and have learned from Ali Akbar Khan," Nikhil Banerjee said. "I consider him one of the greatest living musicians of the world."

Of Nikhil Banerjee, Ali Akbar Khan said, "I felt Nikhil to be like my own brother. Whenever I played with him I enjoyed it so much. Nikhil's death was a great shock to me. A very sad thing was that my father taught him in quite a different style than all of the others. Therefore Nikhil was quite different from the other artists."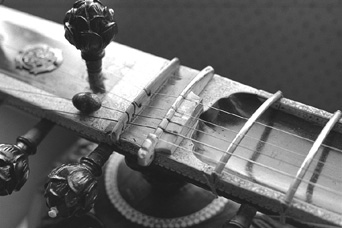 Photo courtesy Ira Landgarten ©



Nikhil Banerjee's mastery of technique and incredible command of his instrument was recognized throughout the world of Indian music. Although his technical virtuosity was stunning, it was balanced by a meditative, introspective, and lyrical approach that, owing to his seriousness and dedication, reached a depth of expression rarely achieved by others. A dedicated artist, he was happy to share his exceptional gift. He was known and respected for his wisdom, gentle character, generosity, and commitment to his music. To Nikhil Banerjee, music was a path of self-realization, to be performed in a spirit of prayer. While playing, he would completely immerse himself in the Raga. As he told his students, "Submit to the notes of a Raga, do not strike it, but try to embrace it with the purest feelings of your heart."

Nikhil Banerjee played a significant role in the extraordinary rise in popularity of Indian instrumental music, and the sitar in particular, over the past half century. To many Indian classical music enthusiasts, he was the most outstanding sitar maestro of the modern era. A warm and accessible person, shy and unpretentious, he deliberately shunned publicity. He played with dignity, without flamboyance or theatrics, concerned more with the integrity of the music than the response of his audience. As a result, he received very little media attention.

"Deeply absorbed in his art, he had no interest in becoming a media celebrity. There was a mystical element in his music, a contemplative, detached intensity. His music displayed a rare assimilation of classical exactitude and emotional freedom. Nikhil Banerjee's art was an amalgam of the best in Indian Hindustani music in all its beauty, grandeur, and dignity. His music was more ennobling, more fulfilling, and deeply contemplative. Few artists have been able to bring out its character with such imaginative depth and sensitivity."

-Mohan Nadkarni, music critic

In recognition of his greatness, Nikhil Banerjee was posthumously given one of the Indian government's highest civilian awards, that of Padmabhushan. (Lotus Adorned Master)